Deanna Hudson is a Long Island based singer/songwriter with a moody pop/rock vibe. Specializing in Classic Rock, Top 40, Pop & Punk. She began her musical career in 2010 when she was gifted a guitar. Twenty Five tears old and ready to change her life trajectory, she taught herself a few chords and started sitting in at open mics and connecting with the local music scene. Hours of practice a day, a natural singing ability and about a year later, she had her first paid gig at a restaurant in Sayville NY. Within a few years she was playing at bars and restaurants all over long island. Since then she has expanded from Long Beach to Montauk, Queens to Greenport.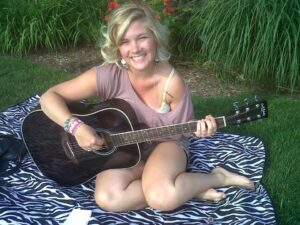 In 2012 Deanna met a few friends from Sayville and they started a band called Dead Love Dove. Over the next few years, they played gigs at popular Long Island venues like Brickhouse Brewery, Patchogue Theatre for Performing Arts: Live in the Lobby series, Amityville Music Hall, Bartini and more. In 2013 they wrote and recorded a self titled album at Vudu Studios in Port Jefferson NY, which saw its long awaited release in 2022. Although the band members moved on to start families, they are still friends and sometimes jam. The album can be streamed on all platforms by clicking the social links below.
In 2013 Deanna began work at a dance studio full time, teaching baby ballet, grade school level Tap, Jazz & HipHop and running the office. Deanna was able to incorporate her love of music into her daily duties in the form of choosing classroom and recital music, choreographing pieces to songs she loved and sometimes accompanying dancers on guitar/vocals. Gigging was mainly a side hustle, and with no room for growth, in 2020 Deanna finally took the plunge and became a full time gigging musician. 
In 2018 Deanna joined forces with Albums We Love band from Long Islands South Shore. Together they presented classic rock albums in their entirety such as Peter Gabriels SO at Patchogue Theatre for the Performing Arts, The Police's Synchronicity at the Theatre & Bradstock and Crosby Stills Nash and Young's Deja Vu right before the pandemic hit. In their sets they also included excerpts from Fleetwood Macs Rumours, The Rolling Stones Sticky Fingers, The Who's Who's Next, and Led Zeppelin Zep IV, in addition to other beloved classic rock songs.
In 2019 Deanna produced her first Punk Rocks Acoustic, a showcase of local punk acts. The first installment raised thousands of dollars for Cycle For Survival. The Second show benefitted Carrolls Kitchen of Bellmore. The most recent show was a huge success and awesome collaboration with our friends at The Sayville Athletic Club. Including Artists like Chad Chadwick, Clovers Curfew, Melanie Morin, Jarett Slionski, and The New Rivals, the shows feature Long Islands favorite performers.
In 2022 Deanna recorded four select original tracks to showcase her writing. Her friends at Ride Waves Productions were dedicated, detail oriented and fun to work with! Deanna is currently working on her first full length album which will feature re-recordings, brand new originals, and reworked Dead Love Dove tunes. Stay tuned in!!